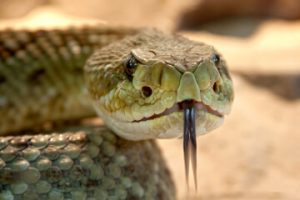 My husband, Bob, is an avid gold prospector. He enjoys searching for tiny fragments of the precious metal beside a river in the mountains near our home. To get there, first, he takes a well-known path. After that, he has to watch where he puts his feet. He never knows what danger might be lurking under or behind a rock, or behind a tree.
One cold morning as Bob headed for the river, he almost put his foot down on what looked like a small stick. He stopped in mid-step—just in time. A baby rattlesnake was sunning itself in the middle of the path. My husband jumped backward and found another way to cross the area before the snake could strike.
On another day in the early afternoon, he hiked to his gold prospecting site with a walking stick in his hand. The trail passed between two bush-like trees that cast long shadows on the ground. A large snake lay almost hidden in the middle of the trail cooling itself in the shade. The reptile saw him but didn't move. The thick foliage blocked my husband from going around the snake. Bob nudged it with his stick hoping the creature would leave and not get mad. Happily for him, it slithered off.
I often keep my eyes open for parables—heavenly lessons from ordinary happenings. So when Bob told me about his two trips to the river and what he encountered, I saw in his experiences with the snakes a lesson depicting our earthly journeys.
What lesson? Well, we're all walking down life's road where danger lurks. If we're not careful, we'll step on something deadly before we reach our final destination, so we need to watch where we're going . . . and what choices we make.
Scripture: Luke 21:36 Watch ye therefore, and pray always, that ye may be accounted worthy to escape all these things that shall come to pass, and to stand before the Son of man.