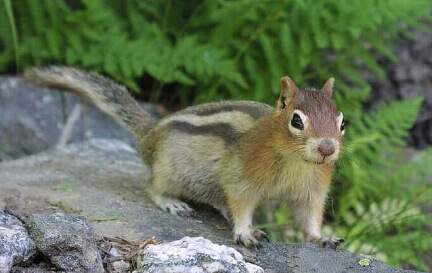 One August afternoon a number of years ago, my husband, Bob, and I with our sheltie, Mac, traveled to Manzanita Lake in northern California. My sister had told us about the wildlife there. As an artist, I was eager to photograph deer and other animals we encountered.
While sitting at our campsite under a canopy of pine trees, noisy stellar jays adorned with perky top knots fluttered through the overhead branches. We threw pieces of our dog's food on the ground, and the bright blue birds swooped down and plucked the kibbles up–if the pieces landed far enough away from us.
Suddenly a golden mantle ground squirrel that looked like an overgrown chipmunk popped out of his hole. He scurried toward the food and stuffed himself with the tasty treats. He got to the pieces before the jays did by coming closer to our feet than they were brave enough to do.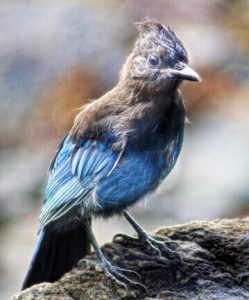 They squawked as though to say, "Hey, that's our grub. Leave it alone."
He paid no attention but kept cramming kibbles in his mouth until his cheeks looked like they were about to burst. When he could jam no more in, he turned around, ran back to his burrow, and disappeared.
After he left, the noisy jays swooped down and gorged themselves until the squirrel returned and chased them away. They flapped their wings and scolded him for confiscating food they believed was theirs.
The golden mantle ground squirrel had a goal. He was storing kibbles away for the winter when he would hibernate and later awake to eat his stored cache of food.
I believe the squirrel has a lesson for us. I'm not talking about storing away physical food, although at times that can be a good idea. No, I'm talking about hiding away in our hearts spiritual food that will sustain us as we face whatever trouble may come into our lives.
Many years ago, I started hiding away spiritual food by memorizing Bible verses. I found it handy to write them on index cards with the verse on one side and reference on the other. With these precious promises memorized, God speaks to me.
For example, when I wake up, Psalm 118:24 often comes to mind. "This is the day the Lord has made; we will rejoice and be glad in it." The best defense against discouragement is praising God.
When perplexing problems come up, I can claim James 1:5. "If any of you lacks wisdom, let him ask of God, who gives to all liberally and without reproach, and it will be given to him."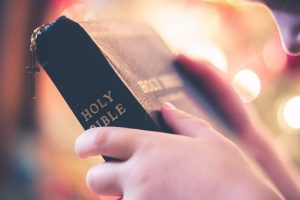 If I want to complain, I need to remember Philippians 4:4. "Rejoice in the Lord always: and again I say, Rejoice."
When fearful, 2 Timothy 1:7 comforts me. "For God has not given us the spirit of fear, but of power, and of love, and of a sound mind." The apostle Paul wrote this verse when he was in prison awaiting execution by beheading.
When I'm tempted to say angry words, I need to remember Proverbs 15:15. "A soft answer turns away wrath: but grievous words stir up anger."
When I feel guilty about the sins I've committed, I remember 1 John 1:9. "If we confess our sins, he is faithful and just to forgive us our sins, and to cleanse us from all unrighteousness." And John 3:16. "For God so loved the world that he gave his only begotten son that whosoever believes in him should not perish but have everlasting life."
When I think of death, 2 Corinthians 5:8 soothes my soul. "We are confident, I say, and willing rather to be absent from the body, and to be present with the Lord."
Are you hiding away spiritual provision for your times of need? Consider buying a pack of index cards, and as you read through the Bible, note the promises and commands that jump out at you. Then copy them. Place your memory verses within easy reach and keep repeating them. After a while, they will sink deep into your heart, nourish your soul, and prepare you for the winters in your life.